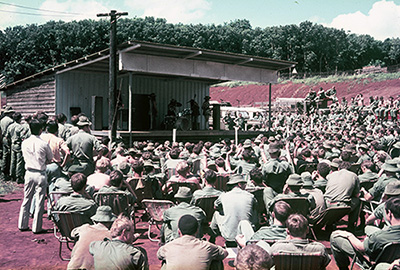 * Concert at Nui Dat 1971
OEM Coverage and Focus
The OEM Sub-branch was formed in early 1995, and with a membership of around 300, it has grown to be one of the largest Vietnam Veteran Sub-branches within Australia. Although our core area includes the Yarra Valley, Dandenong Ranges and the Outer Eastern suburbs of Melbourne, we also have a growing number of members from all parts of Victoria, as well as interstate.
OEM prides itself on being "The Family Friendly Sub-branch". The Sub-branch mantra is "Vietnam Veterans helping and supporting fellow veterans". A key focus is on social inclusion and the community engagement of our members. Our Vision, Mission Statement, Core Values, Goals and Strategic Priorities are identified on our Principles of Operation document which is also incorporated within our Constitution. If you wish to belong to a progressive Vietnam Veterans organisation, and share our vision and values, we urge you to consider becoming a member of our Sub-branch.
Led by an Executive Committee and a Support Group, a major contributor to the success of the Sub-branch is the role played by our dozens and dozens of member volunteers and a number of Activity Groups. This "helping your mates" and "sharing of the workload" approach encourages wide participation and works in everyones interests. More information on our activities is covered in the "activities" section.
Health and Support

The health and support of Members is really the point of it all. OEM places a strong emphasis on 'grass roots' welfare, both 'proactive and reactive', and focuses on the social inclusion and community engagement of our members. We also maintain a strong advocacy role on Veterans' issues.

A 12 member Support Group (including 4 husband/wife couples) overviews our support/welfare programs. Throughout the year the Support Group also initiates a range of other projects to support our welfare needs.

We liaise closely with the Veterans Advocacy Centre at Boronia and the Ringwood RSL Welfare Services Unit, for specialist welfare advice and advocacy services.

* Right: "There's something moving in the water"
Activities and Events

Our activity and event calendar features a combination of regular functions and events as well as a number of new and varied offerings. We are always prepared to look at new ideas that assist us in meeting our welfare goals.

We observe the commemoration days such as Vietnam Veterans Day/Badge Week, ANZAC Day and Remembrance Day. To promote the social engagement of our members, we also conduct many varied and well attended 'get together" days during the course of the year.

In addition to the OEM organised occasions, there are also a wide range of activities organised by our various Interest Groups. These include our Eastern Veterans Wives Group activities, our OEM Gypsy Travel Group, Mens Coffee Morning, our "Sloggers" cycling group, Wives Lunches etc. All these groups are always very welcoming of new members.

Left: A very large turnout for our 20th Anniversary Dinner Dance.